Slow Cooked Plum Venison Stew Recipe
Winter Warming Venison Stew
As we move into the cooler months, our needs for warming foods become greater. During summer we eat lots of raw food. Now that its autumn, it's time for us to transition to more cooked, nutrient-dense meals. Cooking foods can make them easier to digest. This is the time to add aromatics to our meals to support our immune system. Garlic, onions, cinnamon, ginger and nutmeg are good for circulation and the immune system.
Nuts and seeds are a great source of healthy fats and minerals. Remember to soak these and grains before cooking as it helps to make these foods more digestible and their nutrients more available.
I made a slow cook venison last weekend for friends. It was delicious. Venison is leaner than beef. It is also rich in iron and B vitamins. These nutrients have an important role in brain and nervous system function.
Serves: 6
Prep: 45 minutes
Cooking time: 7 to 8 hours on low or 4 to 5 hours on high
---
Ingredients
Roasted Pumpkin
900g of cubed venison (I used a bit less)
3 tbsp of cold pressed olive or avocado oil or as needed
2 onions finely chopped
2 cups of mushrooms, I used shiitake, button and portabello
4 garlic gloves or more if you prefer
1 tbsp of pure maple syrup
2 tbsp of tomato paste
2 tbsp of coconut soy
½ cup of frozen plums or cranberries, you could probably use blueberries too
½ cup of vegetable stock
1 cup red wine
2 tbsp of chutney
Salt and pepper to season
Optional: Two to three grated carrots
Can be served with brown rice, cauliflower or potato mash.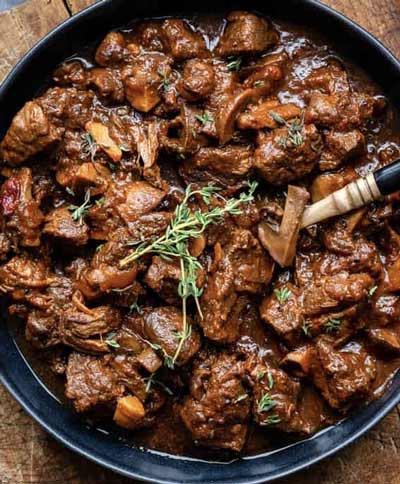 Directions
During preparation, I oil my slow cooker to prevent sticking and put on high to heat up. When all the ingredients are prepped, heat the oil and sear the meat in a pan, transfer to slow-cooker. Sauté the onions, garlic and mushrooms until soft then add to the slow cooker. Mix in the maple syrup, chutney, seasoning, tomato paste, stock, wine plums or berries. Stir in all the ingredients. Cook on low heat for seven to eight hours or on high for four to five hours depending on your slow cooker.
If you want to go gluten free, check the ingredient labels of your chutney and seasoning. Good to check the sugar content too.