Hi, I'm Hazel Thomas. I'm fascinated by how belief can change biology. The power of the mind is extraordinary, as is the body's innate ability to heal itself. That is how the name, Healing Naturally came about. Most 'dis-ease' starts in the gut and that's why I focus on gut and emotional wellbeing.
I'm a Clinical Nutritionist, which means I'm trained in functional testing and analysis. The body gives us many clues as to what's happening on the inside. By reviewing your body systems, I am able to identify nutritional deficiencies and uncover the reasons why you may feel unwell or have developed a condition. I'm able to order and interpret blood tests and functional testing. Facial, nail and tongue analyses is a tool I use to identify nutritional deficiencies and other factors that may be contributing to your poor health.
I love spending time in nature with my hubby and Jemma, our labrador. Meditation feeds my soul and wholesome foods feed my body. I understand what it's like to feel unwell and that it isn't normal. No one should have to put up with that. I also accept that we can't all be at the top of our game all the time, and that's okay too. We do need to look after ourselves and this takes time and patience. I call it 'work in progress'.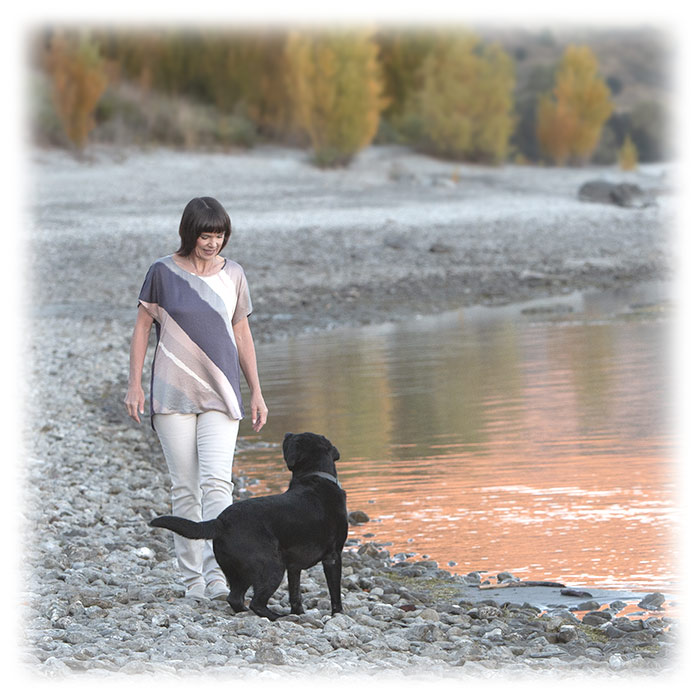 My Story
At the age of five, I was admitted to hospital with stomach pains. The doctors had no answers. I stopped eating breakfast because it made me feel sick. Eating certain foods upset my digestive system, which could be embarrassing at times. I was often tired and the uncomfortable digestive symptoms persisted.
On reflection, my diet had never been stellar but as an adult, it got worse. I continued to skip breakfast, I relied on caffeine to give me a lift, I ate out a lot, imbibed alcohol and smoked. These factors, together with stress, impacted my health.
In my 30s, I had a bout of glandular fever and never fully regained my energy levels. Feeling chronically fatigued and unwell made me realise that I had to make some lifestyle changes.
The information available on health was quite confusing, so I went to a professional for help. I saw a number before I found a good fit. Through this process, I learnt certain foods weren't benefiting me. That I had nutritional imbalances, heavy metal toxicity, candida, a high viral load and was super-stressed. As a toddler and adult I had many antibiotic treatments for various reasons, which would have disrupted my gut microbiome.
Knowing what I know now, I would have paid for functional testing at the start, to identify the root causes of my symptoms sooner.
Over time, I addressed the underlying causes, started eating healthy, whole foods, learned how to meditate and started practicing yoga to help me overcome gut issues, chronic fatigue and stress.
This sparked a real interest in food and I decided to retrain as a nutritionist so that I could help others on their health journeys. Food plays a core role in healing, but other factors such as emotions also affect our health. That's why I also decided to become a counsellor, so that I could support my clients' emotional needs too.
I also offer Reiki, an ancient Japanese form of healing. Reiki is used worldwide alongside traditional medicine to lower pain levels, reduce fatigue and facilitate faster healing.
Our bodies are truly amazing and if we support our unique make-up with the tools it needs, anything can happen.
My Credentials
A Diploma in Diagnostic Radiography and a Post Graduate Diploma in Magnetic Resonance Imaging (MRI) gives me a scientific background, which compliments my nutritional training.
I have a Diploma in Nutritional Science from the Naturopathic College of New Zealand and I am registered with the Clinical Nutrition Association.
As a registered member, my clients who have private health insurance through Southern Cross, Accuro Health and NIB Health Insurance may be able to make a claim, depending on the cover they have. Insurance covers the consultations but doesn't include testing, other services, food or supplements.
My Diploma in Intuitive Counselling allows me to support clients at an emotional level. As a qualified Reiki Level III practitioner, I am able to provide energy healing, which is used in hospitals worldwide, to reduce pain levels, increase energy levels and facilitate faster healing. 
I have a wealth of life experience with a deep understanding of what it feels like to be unwell and to regain one's health. This is your journey, so I will work within your capacity and needs.