Low FODMAP Quinoa and Roasted Pumpkin
Recipe by Dédé Wilson
Fermentable oligosacchrides, disaccharides, monosaccharides and polyols (FODMAPs) are made up of sugars that are not entirely digested or absorbed in the gut. When these sugars reach the small intestine they move along slowly attracting water. When they move into the large intestines, FODMAPs are fermented by gut bacteria, which causes the gas production. The additional water and gas cause the intestinal wall to stretch and expand, which can cause pain and bloating.
A low FODMAPs diet can be useful while working out the main triggers for IBS but it is not a long term solution. What to eat can be challenging for some. There are lots of low FODMAP recipes on line, have a look at the Monash FODMAP App for inspiration.
Serves: 2 to 4
Prep: 14 minutes
Cooking time: 30 minutes
---
Ingredients
Roasted Pumpkin
4 cups of skinned, seeded and cubed pumpkin
1 small red onion
Quinoa and Salad
1 ½ filtered water
¾ cup of quinoa
1 ½ cups of lettuce greens of choice
1 cup finely chopped coriander
1 cup finely chopped parsley
1 cup pomegranate seeds
2 tbsp raw slivered almonds
Salad dressing: Garlic-infused olive oil, coconut soy and the juice of a small lemon or lime.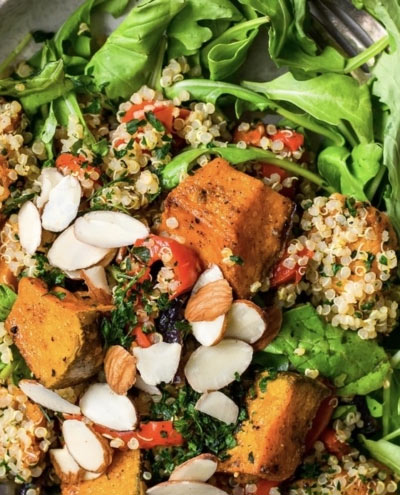 Directions
Roast the pumpkin in a preheated oven at 220 degrees. This can be done with or without oil. Bake for approximately 30 minutes until tender. Allow to cool.
Soak the quinoa overnight in filter water and rinse before cooking. Add the clean filtered water to the quinoa in a saucepan, cover and bring to the boil. Lower the temperature and cook until the water is absorbed, this should take around ten minutes. Turn off heat and take off the stove. Leave the lid on for five minutes, then fluff with a fork. Allow to cool.
Once cool, gently combine the lettuce and herbs with the quinoa and pumpkin. Top with pomegranate and almonds.
Nutritional Benefits
Quinoa provides a wide range of amino acids, which support muscle development, support immunity and other essential functions. It is also high in fibre, rich in the antioxidant vitamin E. It is also a good source of iron, folate, magnesium and manganese.
Pumpkin is a great source of another antioxidant called beta carotene, which gives this vegetable its rich colour. Beta carotene is converted into vitamin A in the body. Vitamin A is also good for the immune system. Pumpkin also contains vitamin C, which is another immune boosting vitamin. Pumpkin has a good amount of fibre, which feeds our good bugs and keeps things moving smoothly through our system.