Gluten Free Curried Lentil Recipe
Slow Cook GF Lentil Recipe
Courtesy of Girl Heart Food
Lentils are such a versatile legume (if you tolerate them) and reasonably budget friendly. Lentils have an earthy mild, nutty flavour that works well in many recipes. This meal doesn't take long to prepare. Combine the ingredients and pop it all into your slow cooker at a low temperature. Come back in six to seven hours and it's all done. A nutritious meal for the whole family.
Can be served on a bed of cauliflower rice or brown rice. Remember to soak all your grains before cooking. It makes them easier to digest and makes the nutrients more available for absorption.
Ingredients
1 and ½ cups of dried green lentils. Make sure you pick through and discard any stones. Can soak the night before but not a problem if you don't, just rinse and then drain.
Can of whole tomatoes lightly mashed
Can of unsweetened coconut milk
2 cups of vegetable broth
2 tbsp of tomato paste
2 tbsp of curry powder
1 tsp ground coriander
1 tsp ground cumin
½ tsp ground turmeric
¼ tsp ground nutmeg
2 chilli peppers
1 yellow onion peeled and sliced
3 cloves of garlic mince
4 cups chopped kale
½ tsp ground black pepper
½ tsp salt
2 tbsp lemon juice
1 cup of fresh coriander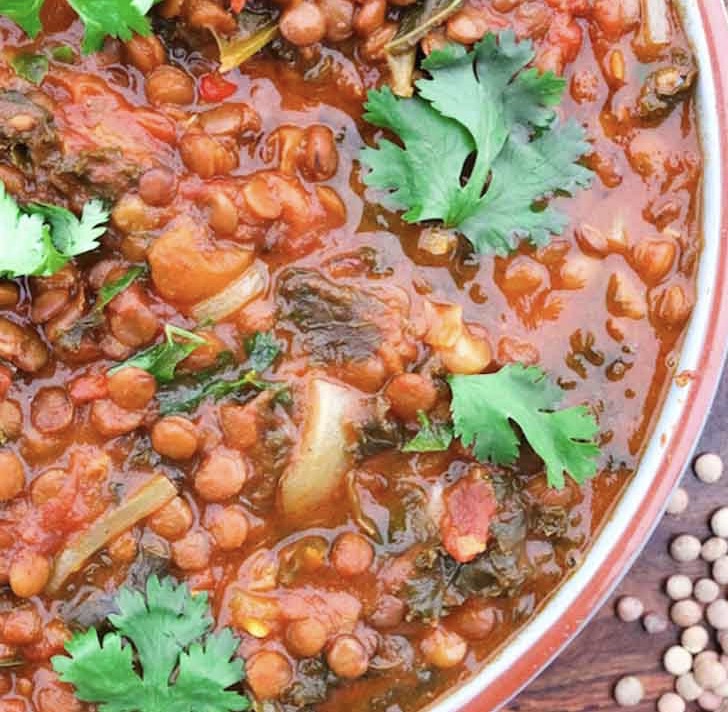 Directions
Set the slow cooker to low and add in the lentils, canned tomatoes, coconut milk, vegetable broth, tomato paste, curry, spices, onion, garlic, kale and black pepper. Stir to combine. Cook for seven hours. Towards the end of the cook, add in the lemon juice and salt. When ready, garnish with the coriander.

Nutritional Benefits
Lentils are high in protein, folate, fibre, iron, potassium and manganese. These nutritional properties have antioxidant activity. Lentils contain slow digesting resistant starch that has good effects on lowering blood sugar. The fibre also feeds the gut flora, which is good to prevent digestive disease. Human studies have demonstrated that lentils may improve cholesterol levels in people with diabetes.
Latest News
Categories
Archives