Adzuki and Quinoa Delight
Adzuki and Quinoa Recipe
Recipe by Hazel Thomas
My hubby is a carnivore, so when he said should write down the recipe for the vegetarian dish that I had cooked for us, I took it to heart. This is a quick and easy meal to prepare.
Adzuki beans have a nutty flavour and are grown throughout East Asia. They contain 57g of carbohydrate, 17.3 of protein, 16.8 grams of fibre per 100g serving and have very little fat. I also used seasonal produce from the garden including courgettes, spinach, garlic and swiss chard. You can cook these beans from scratch but I used a tin of organic beans for convenience.
I gave the quinoa a good eight hour soaking before cooking. I recommend that my clients soak all their grains and needs. Nuts too if you can. Nuts and grains contain saponins, which are a natural compound found in a number of plants. Saponins can give quinoa a bitter taste. Usually quinoa has been pre-washed to remove the bitter layer before being sold but it doesn't always remove it completely. It also contains phytic acid, which binds the nutrients they contain and reduces their absorption.
It is also good to soak grains, seeds and nuts to make the nutrients they contain more easily absorbed and reduce their starch content, making them easier to digest. In my opinion, quinoa also tastes better. You can also sprout quinoa, which I have to say is rather delicious in salads. I've made porridge with sprouted quinoa too. Sprouted grains are more nutrient dense too!

Serves: 4
Prep: 15 minutes
Cooking time: 15 to 25 minutes
---
Ingredients
1 tin Ceres organic adzuki beans
1 tin organic tomatoes
1 cup quinoa
1/4 cup pumpkin seeds
1 onion
2 cloves of garlic
6 button mushrooms
3 courgettes sliced and halved
2 cups of green or more (you can never have too many!)
1 cup of basil leafs more or less
1 tsp cumin seeeds
1/4 tsp of cayenne pepper more or less
1 to 2 tbsp of coconut soy
1 tsp turmeric
Sea salt and black pepper to taste
1/2 cube of organic vegetable bouillion
1 tsp miso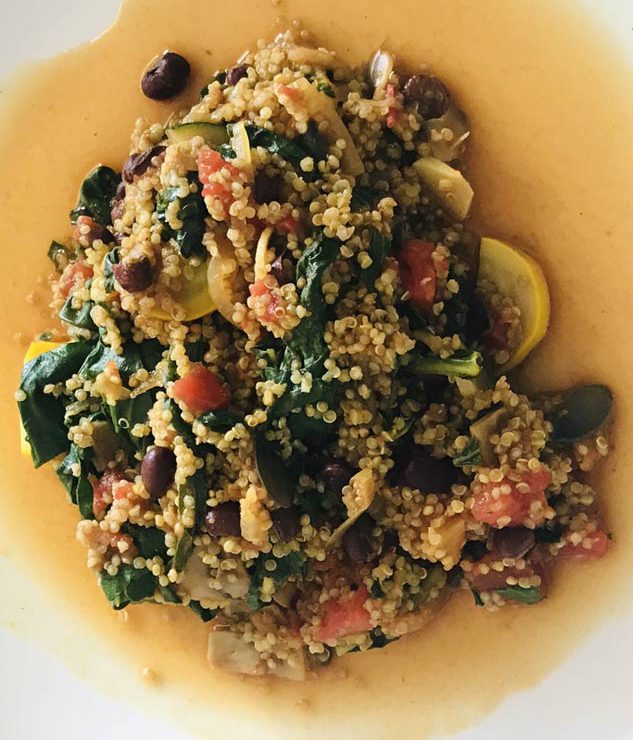 Directions
Soak the quinoa and pumpkin seeds for at least two hours, overnight would be even better. When ready to cook, rinse thoroughly and place in a saucepan, cover with boiling water. Add in salt, half a stock cube and a bring to the boil. Add in in the miso and leave to cook in its own heat.
Cut up the onions and garlic, sprinkle in the cumin seeds and fry in the coconut oil until soft and brown. Add in the mushrooms (can add in some more coconut oil if needed).
Once the mushrooms are almost cooked add in the beans and courgettes. Sprinkle with the cayenne pepper and add in the coconut soy. After a few minutes add in the tomatoes and greens. Simmer for 10 minutes and then serve.
I mixed in the quinoa to the bean mix and added in some turmeric for colour and extra flavour.
Nutritional Benefits
Lentils are high in protein, folate, fibre, iron, p
Adzuki beans are high in antioxidants, which are helpful in fighting disease and are health promoting. They are high in protein, which can help in building muscle mass. Adzuki beans have high concentrations of dietary fibre, folate, magnesium and B vitamins. They really pack a punch! They also help to regulate blood sugar.
Quinoa is high in protein and contains all the essential amino acids. It is an excellent source of magnesium, manganese, iron, phosphorus, copper and zinc, vitamin B2, E and fibre.
Garlic contains allicin, which is a potent antioxidant that reduces oxidative damage to our cells and supports our detoxification systems. It also inhibits the growth of a variety of bacteria, yeast and viruses.
Onions are a good source of vitamin, B1, B6, C, K, biotin, chromium and fibre. They are great for the immune system and are anti-inflammatory in nature.
Mushrooms may have cancer-fighting properties and are immune boosting. They also contain B vitamins and minerals. An added bonus is they don't contain fat. Bring on that egg benedict and mushrooms I say!
Spinach: If you aren't really into raw dark leafy greens, spinach is your best bet. It has a very mild taste and is loaded with Vitamin K and magnesium.
Cayenne: This is an amazing source of micronutrients. Cayenne has been shown to boost metabolism and immunity.